REQUEST AN
APPOINTMENT
We offer a complimentary initial
orthodontic consultation.
GET STARTED »
Headgear & Reverse Headgear
The more headgear is worn, the faster the teeth move. Dr. Parigini will recommend the correct number of hours. Usually it is worn 12-14 hours a day. If it is not worn enough on one day, it must be made up on the next. Once headgear treatment is started, it must be adhered to continuously in order to produce a successful treatment result. The key to success with your headgear is consistency.
By using the neck or head as an anchor, the straps produce a steady pressure that gradually aligns the protruding upper and lower jaw with the respective upper and lower teeth. The headgear works by slowing the growth of the prospective jaw, allowing the opposite jaw time to "catch up".
Headgear has two parts: a soft strap with springs (or loaded straps) attached to it and a metal part called a facebow that fits into the bands or archwires.
Headgear is not to be worn during meals, active sports or while brushing your teeth.
Make sure to put the headgear in a place where it won't be damaged or lost. Brush with a soft bristled toothbrush to keep it clean and shiny. The strap can be washed in cold, soapy water.
Always remove the elastic force before removing the headgear from your mouth to prevent it from springing back and causing injury to the face or eyes.
If it hurts or breaks, call the office to arrange an appointment to adjust or repair it, as the fit will change with time. If your headgear is lost, or damaged beyond repair, there may be a replacement charge.
The patient is in total control of this part of the treatment. Dr. Parigini has designed the treatment to proceed in a careful manner and is dependent upon each patient's cooperation for success.
Quad Helix
The Quad and Bi-Helix expansion appliances are used to widen the upper and/or lower arches and provide space for your teeth to be straightened later.
Your teeth, cheeks and tongue will be sore for a few days after initial placement. Chewing on soft foods will help work out the soreness. Should the cheek or tongue become irritated, warm salt water rinses should help speed the healing process.
It may be difficult to pronounce certain words for a short time. Be patient; you will adapt to this change within a few days.
As expansion occurs, you may notice a space developing between your front teeth. Do not become alarmed; this is normal. Dr. Parigini will close the space as you proceed with treatment.
Do not play with the appliances using your fingers, pencils etc. Do not flip it with your tongue as this can cause the bands or appliances to become loose or even break.
Herbst Appliance
The Herbst appliance is used to optimize the conditions for growth of the lower jaw in a forward direction, while at the same time applying pressure to the upper jaw in a backwards direction. It can also be designed to allow expansion to the upper arch. This appliance helps to correct the front-to-back relationship of the upper and lower jaws. The Herbst stays in your mouth for at least 9-12 months.
The rod and tube that work like a shock absorber actually connect the upper and lower jaw.
This really doesn't interfere with the opening and closing of your mouth or with eating. You will find side-to-side movement is somewhat restricted. If you open wide, and the appliance comes apart, open wide once more and guide the appliance back together again as you close. The inside of your cheeks may be irritated by the appliance until these areas have built up calluses. Warm salt water rinses will help speed the healing process.
It is best to sleep on your back as pressure on the cheeks can cause irritation. After the first few days you will find this appliance much easier to wear.
Elastics
Elastics worn with braces create a gentle, continuous force, used for aligning one arch to the other. If elastics are worn one day and left off the next, your teeth will set up resistance that will slow your progress. Progress will also slow if elastics are worn for a week and then you skip a day. Teeth always move if elastics are worn correctly. The more rubber bands are worn, the faster and more completely the correction will occur. Less than full time wear greatly lengthens treatment time and decreases the chances of a successful outcome. Wearing elastics while eating accelerates tooth movement!
Elastics should only be removed during brushing and should be changed afterwards. Elastics should also be changed when they break or become discolored.
Initially, the elastics may feel a little awkward, but you should adapt to it within a few days. It is normal for teeth to become sore during the first 3-5 days of wear. This will subside after a few days. Advil or Children's Advil will alleviate this type of discomfort more effectively than Tylenol. If rubber band wear is stopped for a significant time and then restarted, some soreness may recur. Increased saliva flow for 2-3 days is also normal with elastic wear.
Carefully following these instructions and wearing your elastics as prescribed will increase the likelihood of obtaining the desired result.
If you run out of elastics, please contact Dr. Parigini's office immediately to arrange for pick-up or mailing of additional elastics.
Tooth Separators
These are little rubber bands, or metal-type clips that are utilized to gain space between your back teeth. They make it easier to fit braces around your back teeth. Depending on your age, they should remain in place 6-14 days.
Separators will make your teeth tender and slightly sore for 3-5 days. It may feel like you have a piece of meat caught between your teeth. You will need to stay away from chewy, sticky foods as they can pull the separators out (I.e., gum, caramels, taffy, etc.). Ibuprofen, such as Children's Motrin or Advil, can be taken for the discomfort.
You will not be able to floss your teeth where there are separators. However, you can brush and WaterPik® as you normally would.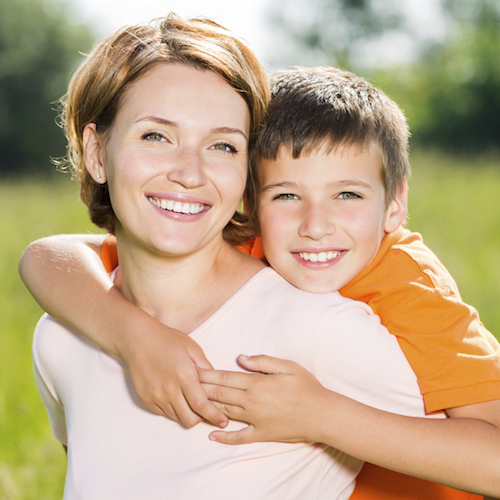 ---

"Dr. Parigini and all the staff are very warm, friendly, and extraordinarily skilled. Enjoyed each and every visit and my smile is unbelievable! Even as an adult orthodontic patient, definitely worth it!" -
Janis D.
"Dr. Parigini is the bomb.com! He took very good care of me and my teeth. Thanks to him I have a beautiful smile! All the waiting was well worth it. Thank you Dr. Parigini!" -
Caroline K.
"I can't tell you how pleased I am and how both Jack and Jordan's teeth came out after 1.5 years! They are thrilled with their smiles. Your office staff has been amazing as well as the orthodontic assistants. I always refer you guys." -
Jackie S.
"My experience with Dr. Parigini and his staff has been nothing short of amazing. I can honestly say I had no pain and no problems. I would recommend treatment to anyone. I'm very grateful!" -
Kim B.
"Dear Dr. Parigini and staff, a special thank you to everyone for helping to correct my smile this past year. The result is awesome. I'm really happy to move on beyond the rubber bands!" -
Jeanne H.
"Love the atmosphere and excellent customer service." -
Valerie B.
"To the crew – with sincere appreciation! You are all so wonderful, talented and kind! Thank you so much for all your hard work! Much thanks." -
Emily B.
"My experience with Dr. Parigini was great! Every time I have an appointment everyone was incredibly friendly and welcoming! Thank you very much! I really enjoy the results!" -
Garrett S.
"Dr. Parigini and team are the most professional, compassionate dental office I have ever been in. I am so happy with my new smile! I would highly recommend them! Thank you so much." -
Nancy M.
"Thanks to everyone! I couldn't be happier with my new smile! Many thanks." -
Kathleen C.
"Thank you all from the bottom of my heart for your kind and professional care over the last two years! I truly appreciate everything. Best regards." -
Sue B.
"Absolutely perfect! Any questions were answered so that we understood and any concerns were solved in the best way. He definitely knows what he is doing and you can tell that his main goal is to give people smiles that make them confident. I couldn't be happier with how my smile tuned out." -
Louisa S.
"Dr. Parigini and his staff have been amazing. I am so happy with my new smile and straight teeth." -
Caitlin H.
"Many thanks to Dr. Parigini and his helpful staff! Big smiles from the Bray Family today!" -
The Bray Family
"I have had such a wonderful experience with Dr. Parigini and all his beautiful staff members. I feel so much more confident all ready with straight teeth with an approved smile. Thank you so much ! :)" -
Zoe D.
"Dr. Parigini was the best orthodontist, him and his staff made me feel great. You guys are the best. Thank you for everything!" -
Damaris J.
"When I first went here I was really scared. But when I met Dr. Parigini I knew I had nothing to worry about. Everyone here was so nice that I almost got to the point where I was looking forward to get my braces tightened. Thank you so much for making my teeth straight." -
Sarah D.
Minden OFFICE
1702 County Road, Suite G
Minden, NV 89423
Fax: (775) 782-3620
Office Hours
Monday - Wednesday: 8:00 a.m. - 5:00 p.m.
Closed for lunch: 12:00 p.m. - 1:15 p.m.
Stateline OFFICE
276 Kingsbury Grade Road, Suite 201
Stateline, NV 89449
Fax: (775) 782-3620
Office Hours
Thursday: 8:00 a.m. – 4:30 p.m. (Closed for lunch: 12:00 p.m. – 1:00 p.m.)
Closed for lunch: 12:00 p.m. - 1:00 p.m.